By Emeran Mayer, MD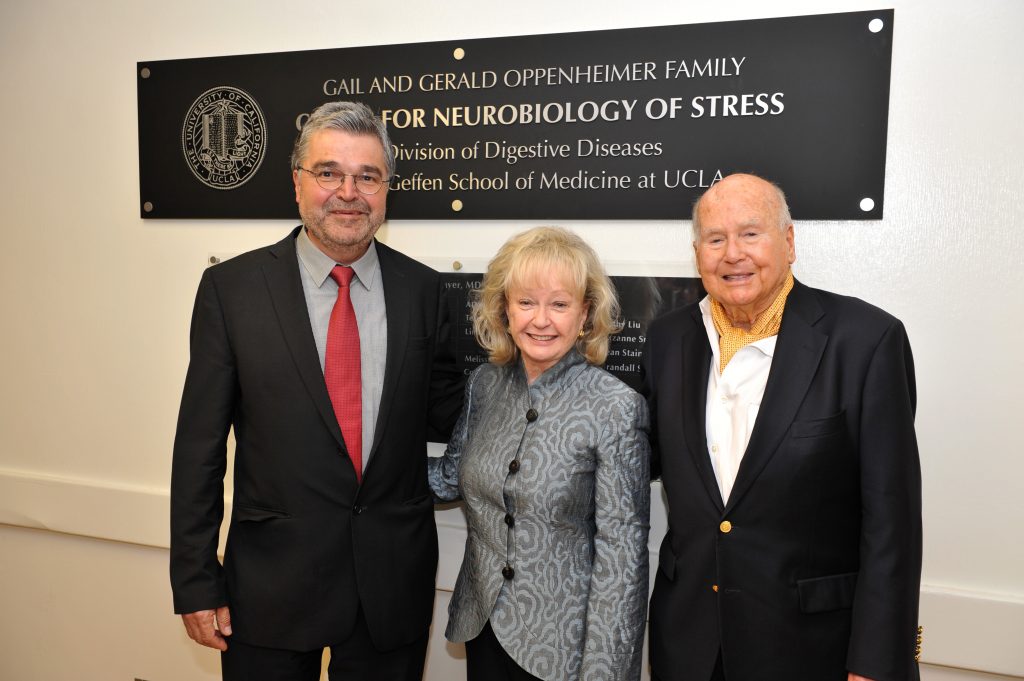 Jerry Oppenheimer passed away just about 1 year shy of his 100th birthday, leaving behind an impressive legacy of achievements and giving. He lived a long life full of curiosity, passion and generosity and was a remarkable role model of how to live fully, and how to give.
Besides his many philanthropic efforts for centers and programs at UCLA, Jerry and Gail Oppenheimer generously supported the activities of our Center over the past 10 years, and deserve full credit for the success in training over 100 young scientists and clinicians, in obtaining millions of NIH grant funding, and in establishing the Oppenheimer Center for Neurobiology of Stress and Resilience as one of the leading translational research centers in the world.
When he first learned about our research group, we were in the early phases of building our Center and were scattered at different locations within the UCLA and VA hospitals. Jerry not only supported our fledgling Center financially, but provided us with sage advice and guidance. His longstanding support not only gave us a home where we could work more closely together in one place, but also with an enduring infrastructure and research funding that has allowed us to build the pillar programs within the Center – the Programs for Research in Brain-Gut Microbiome and Mind-Body interactions, Disorders of Brain Gut Interactions, Chronic Pain, Obesity and Integrative Medicine. Jerry's generous investment in these programs will help us continue to grow for years to come.
Jerry has also been a living example of resilience and has lived a life based on the principle that people can take responsibility for their own health, and overcome often life threatening challenges. I will never forget the many meetings with him in his home, where he told me about the latest research efforts on the healing effect of electricity and nerve stimulation on the body, a favorite topic of his.
On behalf of all members of the Oppenheimer Center for Neurobiology of Stress & Resilience, I would like to express my sincere gratitude to a great human being who has not only helped us to get a better understanding of the biological underpinnings of mind body interactions, but who has touched the life of many young scientists who were involved in this research effort. We will miss him dearly.
Gail and Gerald Oppenheimer Family Center for Neurobiology of Stress Grand Opening
Center for Health Sciences (CHS) 42-210 – June 14, 2011